I don't care what anyone says. Eating freshly baked WHITE bread is the best.
I used the Kitchen Aid to make some French Bread.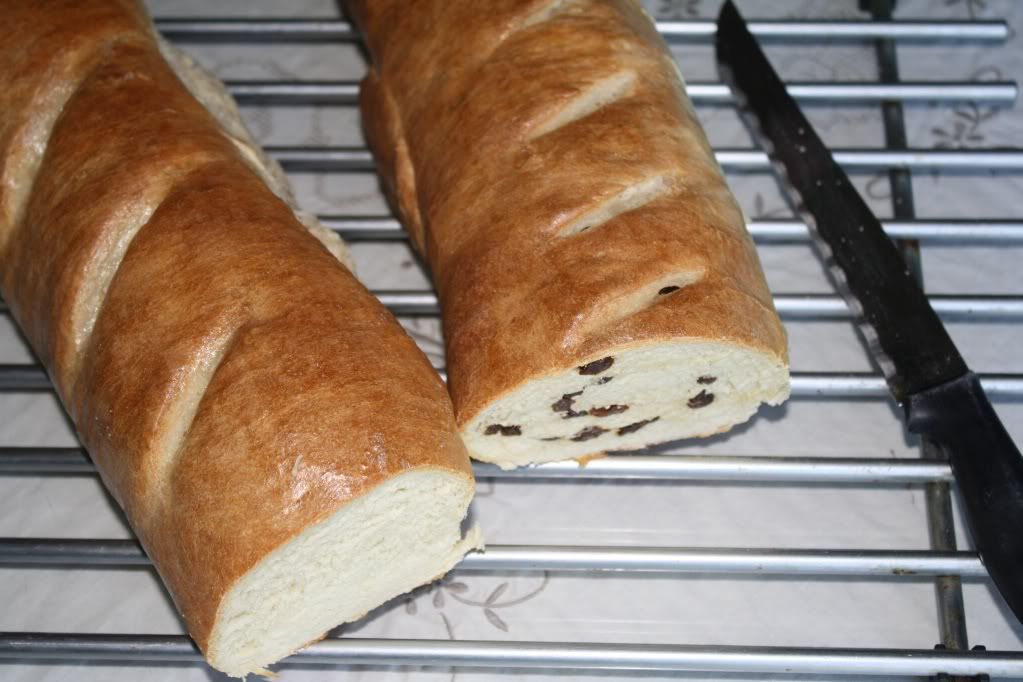 I added so many raisins to one of the loaves.
My dad, aka the bread expert, told me that raisins are not normally in French Bread.
I told him that I didn't care and added the raisins.
When the bread was fresh from the oven, I preferred the Raisin French Bread to the Plain French Bread. However, the Raisin French Bread became extremely hard a day later, while the Plain Bread was still soft.

I thought the opposite would have occurred and then I remembered that I didn't soak the raisins prior to adding them. They must have drawn the moisture from the bread!

To confirm my hypothesis, I poked and poked those itty-bitty raisins. Sure enough, they were soft and moist, while the bread was very hard. Parasitic Raisins.
Recipe for French Bread
* 2 packages active dry yeast
* 2 1/2 cups water (105F to 115 F)
* 1 tablespoon salt
* 1 tablespoon melted margarine or butter
* 7 cups all-purpose flour
* 2 tablespoons cornmeal
* 1 egg white
* 1 tablespoon cold water


Dissolve yeast in warm water in warmed mixer bowl.
Add salt, butter, and flour.
Attach bowl& dough hook to mixer, turn to Speed 2 and mix about 1 minute or until well blended.
Knead on Speed 2 about 2 minutes longer.
Dough will be sticky.

Put dough in large greased bowl, turning to coat.
Cover and let rise in warm place, free from draft, about 1 hour, or until doubled in bulk.

Roll each half into 12" x 15" rectangle.
Roll dough tightly, from longest side, tapering ends, if needed/wanted.
Put loaves on greased baking sheets that have been dusted with cornmeal.
Cover and let rise in warm place, free from draft, about 1 hour, or until doubled in bulk.

With sharp knife, make 4 diagonal cuts on top of each loaf.
Bake at 450F for 25 minutes, then remove from oven.

Beat egg white and water together and brush each loaf with this mix.
Return to the oven and bake 5 minutes longer.

Immediately remove from baking sheets and cool on wire racks.
From Kitchen Aid