Well, I suppose I did make the cake for him so I guess he is allowed to run away with it.
I was inspired to make a cake just like
Trish's
Sponge Cake for Father's Day.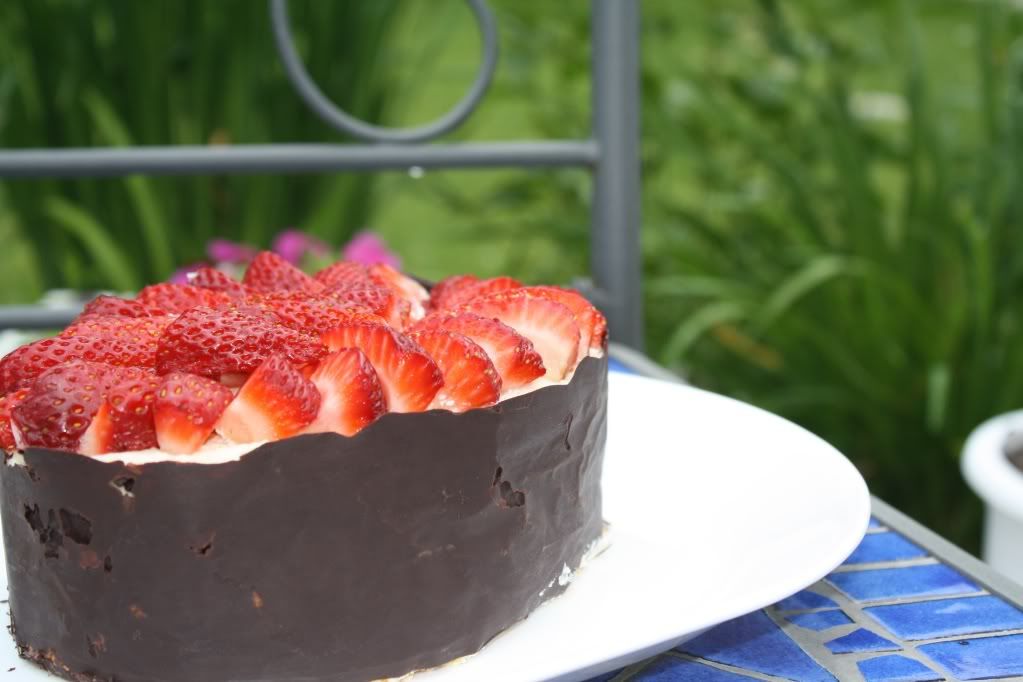 It looks like a Strawberry Cake with a Dark Chocolate collar.
Yup. Close up on the strawberries.
Giant mutant strawberry from California vs. Local strawberry
A slight size difference.
Inside is not a Strawberry Cake... but a Mango Sponge Cake!
I made a Mascarpone Whipped Cream Filling.
I really liked this filling (which also covered the cake).
It was light. Not too creamy. Not too sweet. Just perfect.
Yum!
I'll show you what I made for dinner for my next post.
Unfortunately, I can't give out the cake recipe but I can give you the...
Recipe for Mascarpone Whipped Cream
Printer Friendly Version
* 1 cup chilled mascarpone cheese
* 1 cup chilled whipping cream
* 1/4 cup powdered sugar
* 1 teaspoon vanilla extract

Beat mascarpone, whipping cream, 1/4 cup powdered sugar and vanilla in large bowl until firm peaks form. Refrigerate until ready to use.