Cuit. It sounds like an inappropriate word but according to
wiktionary
, it means:
1. part, portion, share
2. property, possession, means
3. portion of food
So cuit is is not a "bad" word. Go ahead and use it more often.
Now what is it that I'm not really willing to share?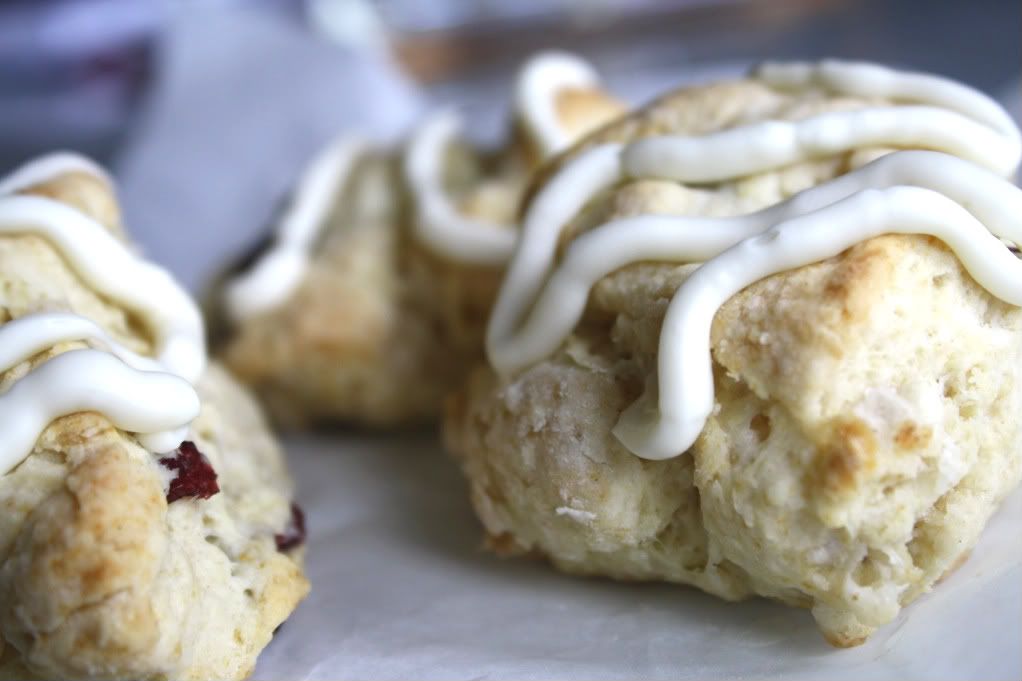 BisCUITs.
White Chocolate and Cranberry Biscuits.
Raisin Biscuits.
Well maybe I'll give you one or two... since it is a BIscuit.

This was my first time making biscuits. I was worried that it would be complicated. Luckily the ingredients needed for the Buttermilk Biscuits was not unusual.
Sugar. Butter. Buttermilk.
Baking powder. Baking soda. Flour. Salt.
I forgot to show the egg. He's just chillin' in the fridge.
I wanted to jazz up the biscuits with white chocolate, craisins, and raisins.
I was even debating between the JUMBO raisins or the regular Joe-Smoe ones.
I went with Joe-Smoe.
I was so messy that I didn't even have to flour the surface.
I totally planned it that way.



How am I sappose to knead a pile of flour with bits of butter?
I didn't follow the "knead the dough 10 times" instruction by accident.
I felt a little better after my mom said,
"Joyce, don't worry. Your hands are small.
A person kneading it once would be the same as you kneading it twice,
so it's ok if you go over."
I divided the dough in half after kneading it... more than 10 times.

Then I realized I had to find way to add in the craisins/white chocolate and raisins without kneading it more. I pulled the top and bottom layers apart to make an accordion-like shape. Then shoved as much as I could between the layers (when I kneaded the dough I just folded it in half so it would create many layers). Crisis somewhat averted.
If I could do it again, I would add the jazzy elements before kneading it.
My 1st batch (craisin) had a nice texture, but my 2nd batch (raisin) were like the Pillsbury crescents. Why?
-Perhaps it was the baking soda
The 2nd went into the oven after the 1st batch was made (20 minutes).
Remember baking soda needs to go into the oven quick or they won't rise as much.
-Perhaps it was the butter in the dough
It became really soft when I was shoving in the raisins.
Really cold butter is key for flakiness.
-Perhaps I over kneaded the dough.
...I wanted to make sure raisins were distributed throughout!
The butter was cold to begin with...
Recipe For Buttermilk Biscuits
2-1/2 cups (625 mL) all-purpose flour
2tbsp (25 mL) granulated sugar
2-1/2tsp (10 mL) baking powder
1/2tsp (2 mL) baking soda
1/2tsp (2 mL) salt
1/2cup (125 mL) cold butter, cubed
1 cup(250 mL) buttermilk
1 eggs
In bowl, whisk together flour, sugar, baking powder, baking soda and salt. Using pastry blender or 2 knives, cut in butter until in coarse crumbs. Whisk buttermilk with egg; stir into flour mixture with fork to make soft dough.
With lightly floured hands, press dough into ball. On lightly floured surface, knead gently 10 times. Pat into 3/4-inch (2 cm) thick round. Using floured 2-1/2-inch (6 cm) round cutter, cut into rounds. Place on parchment paper-lined or floured rimless baking sheet. Bake in 400°F (200°C) oven until golden, 12 to 15 minutes.
Topping: Brush with butter; sprinkle with sugar. (Make-ahead: Let cool. Store in airtight container for up to 24 hours or wrap individually in plastic wrap and freeze in airtight container for up to 2 weeks.)
Additional Information:
* Variation
Whole Wheat Biscuits: Replace half of the flour with whole wheat flour.