I've always been a fan of tigers. I even dressed up as one for a party.
I like them as brownies too, so I made them. No, I did not bake tiger meat into dessert. I'm pretty sure that's illegal. WWF would be all over that.
Tiger Brownies are actually made up of a cookie bar and a brownie. They do not resemble a tiger (besides the stripes) and could probably be called Zebra Brownies.
Tiger versus Zebra...
This is starting to sound like the lyrics to Metric's Stadium Love... Tiger versus Rat... (click here to cue the music)
Or forget about the animals, these could be called Brookies... or Crownies... or Browokies... or Cookownies...
endless possibilities.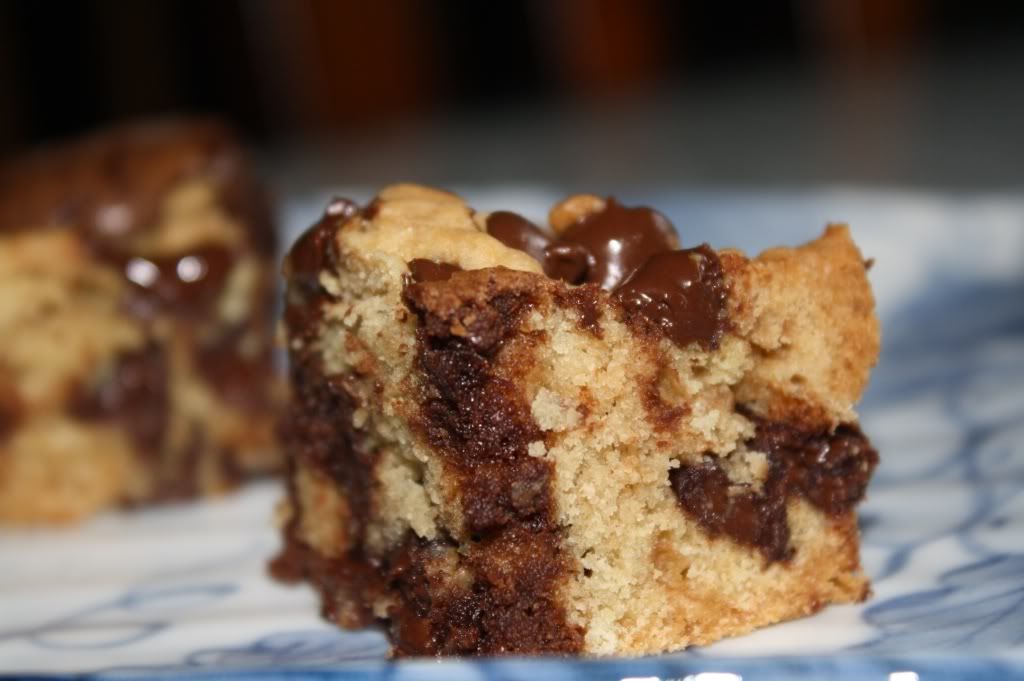 Or I could just stick with the name Tiger Brownie.
Store bought ones always have a bottom layer made of shortbread cookie. I don't like shortbread so I omitted it. I did cover the bottom with parchment paper so that the bottom wouldn't stick.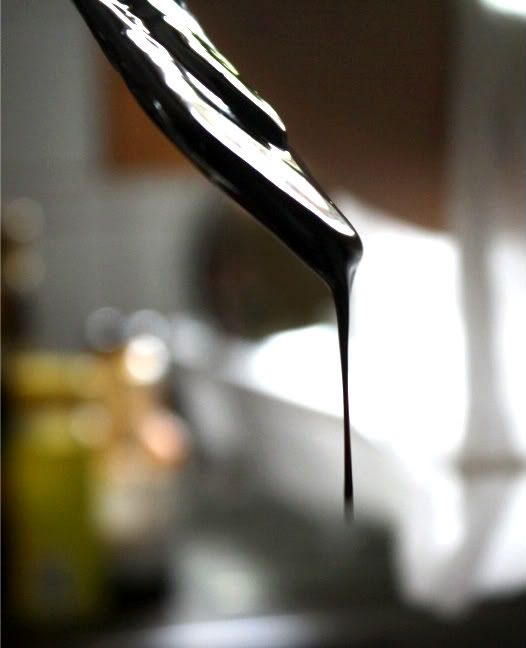 I made the brownie batter first. It didn't have baking soda or baking powder,
so there was no rush to pop it in the oven.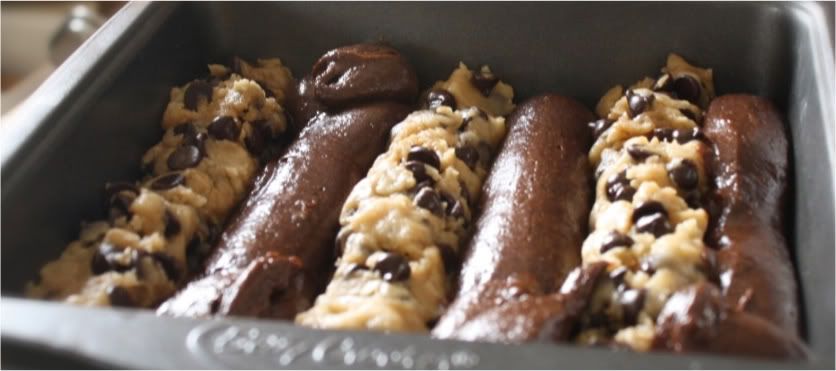 After I rolled the cookie bar dough into 3 logs and placed them into the pan, I piped the brownie mixture in between the cookie dough. PS I used a cookie bar recipe, I have no idea what would have happened with a regular cookie recipe.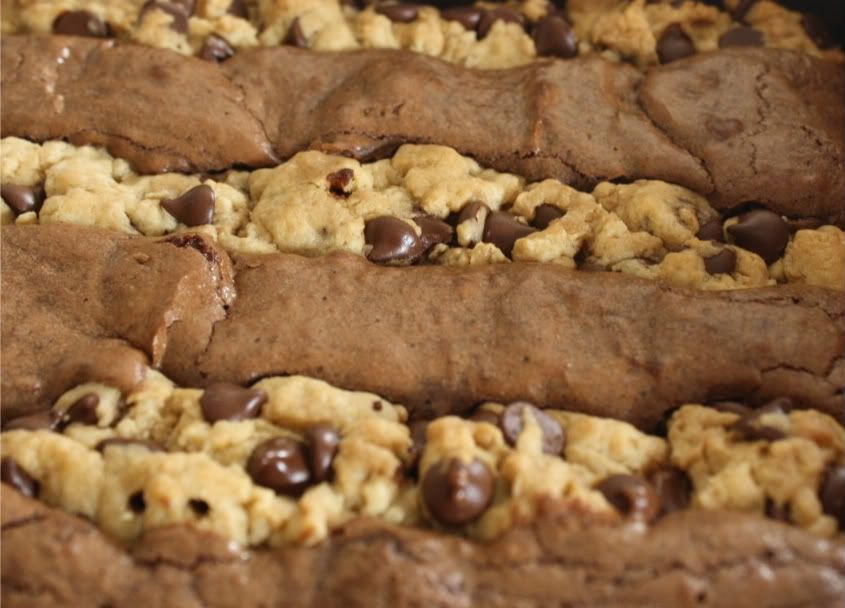 Baking time was a concern because the cookie bar only needed 24 minutes in the oven, while the brownie required 30 minutes.
Life is full of comprises, even in brownie/cookie world. I made an executive decision to take the Tiger Brownie out of the oven at 27 minutes- neither 24, nor 30.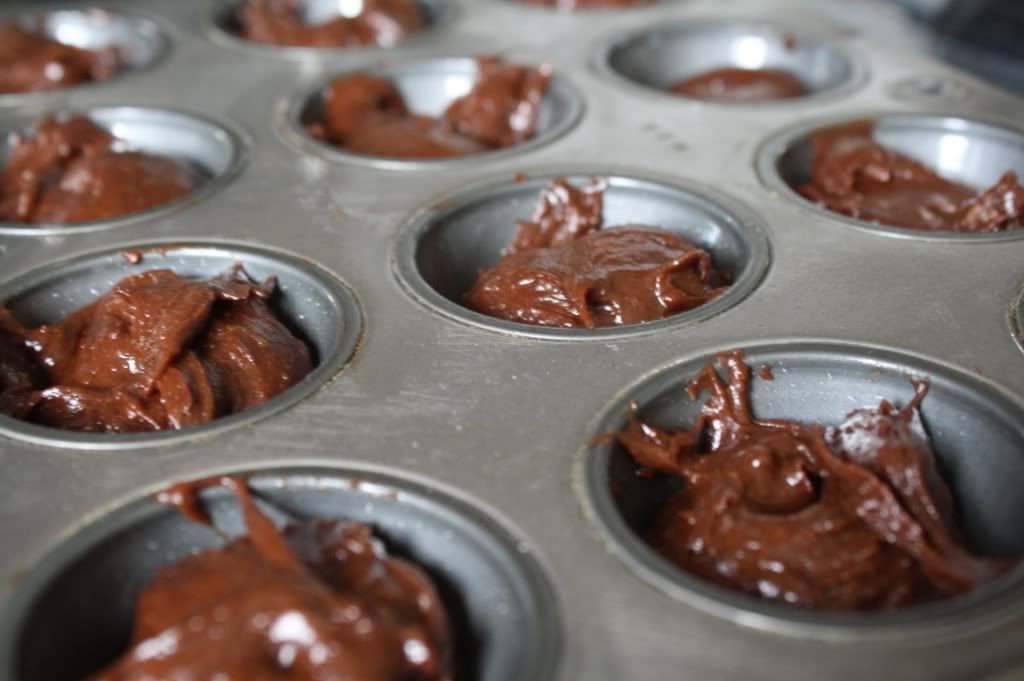 I still had about half the brownie mixture left,
so I made Two-Bite Brownies.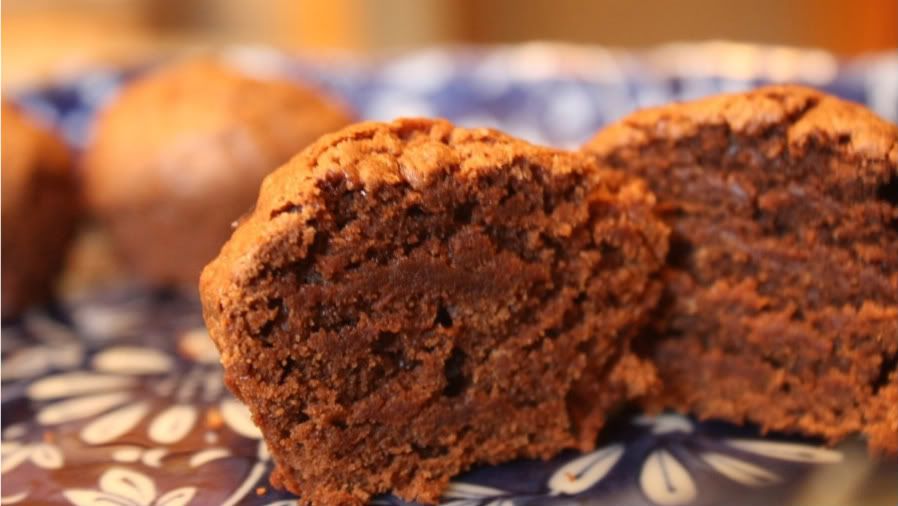 Today was a learning day.
But I never found out why these Two- Bite Brownies puffed up like baby cupcakes. Perhaps too much batter?
I did learn that it's easy to over bake brownies. A few minutes can make all the difference. I thought I over baked them (13 minutes in the oven), so I took them out of the pan right away. No waiting in the pan to cool.
The end result was good and they were perfect inside.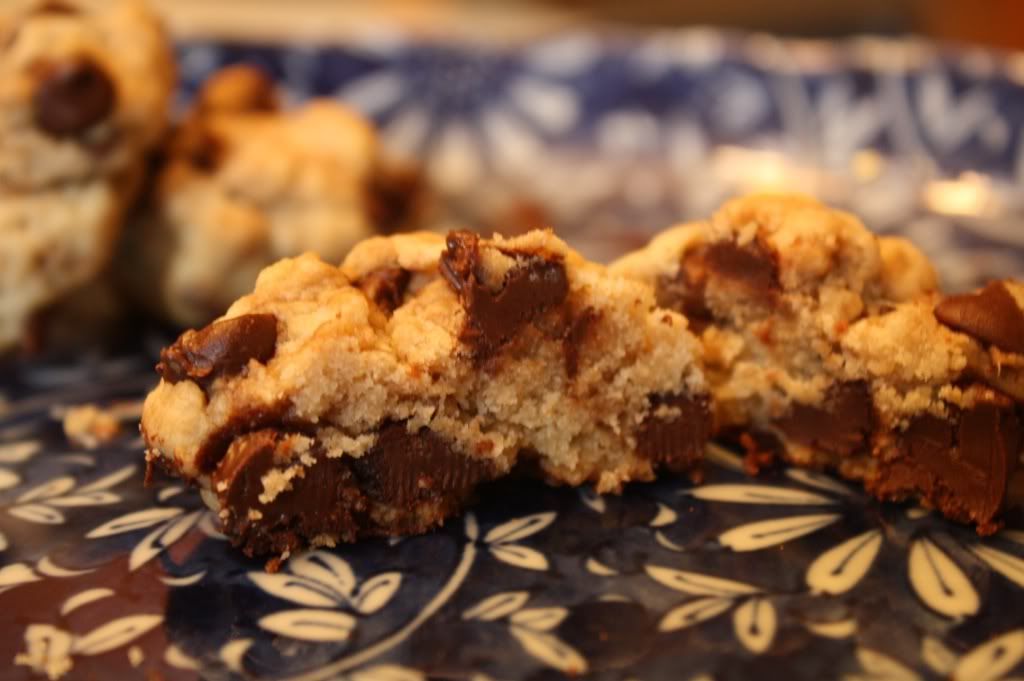 I also made some cookies and then froze the rest of the batter.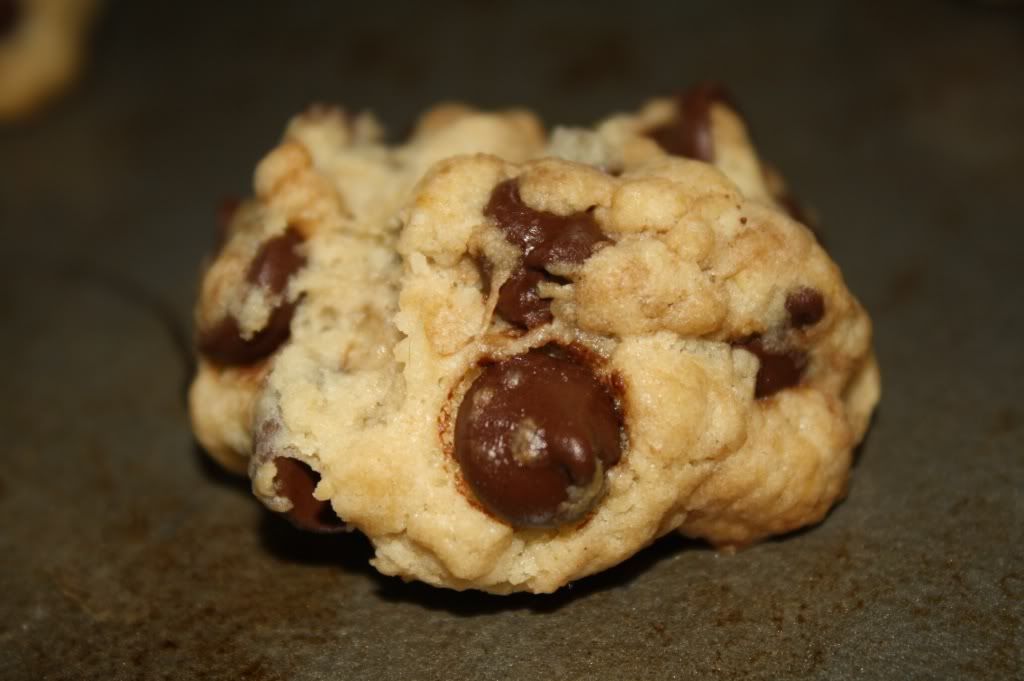 I put the cookies in the oven for 10 minutes and they didn't flatten out very much. They were... a very odd chocolate chip cookie. Not like the chewy kind that I love but they were fine in the Tiger Brownie. Maybe they would have tasted better if they were baked as a bar. It was a cookie bar recipe after all.
The brownies had a cakey and fudgey texture. I know that some people enjoy cake-like brownies. I normally prefer fudge-like brownies but these did not disappoint.
If I made tiger brownies again, I would use a different cookie recipe. Perhaps a recipe with the same baking time as the brownie (30 minutes).
The Tiger Brownies disappeared more quickly than the cookies or brownies. I hoped people realized that they were almost the same thing...
Recipe for the Tiger Brownie
Line an 8x8 inch pan with parchment paper. Grease the sides.
Make the brownie batter.
Make the cookie dough.
Make 3 cookie logs and place them into the pan.
Put the brownie batter into a piping bag and pipe between the cookie logs.
Bake for 27 minutes at 350.
Recipe for the Brownies
Printer Friendly Version
5 ounces (140 grams) semisweet or bittersweet chocolate, chopped
1/2 cup (1 stick) (113 grams) unsalted butter, cut into pieces
2 tablespoons (15 grams) cocoa powder
1 cup (200 grams) granulated white sugar
1 teaspoon pure vanilla extract
3 large eggs
3/4 cup (95 grams) all-purpose flour
1/4 teaspoon salt
3/4 cup (125 grams) semi-sweet chocolate chips (optional)

Preheat oven to 350 degrees F (177 degrees C) and place the rack in the center of the oven. Butter (or spray with a nonstick cooking spray) an 8 inch (20 cm) square pan.

Melt the chocolate and butter in a large stainless steel bowl placed over a saucepan of simmering water. Remove from heat and stir in the cocoa powder and sugar . Next, whisk in the vanilla extract and eggs, one at a time, beating well after each addition. Finally, stir in the flour, salt and chocolate chips (if using).

Pour into the prepared pan and bake for about 30 minutes, or until a toothpick inserted in the center comes out with a little batter and a few moist clumps clinging to it. Do not over bake. Remove from oven and let cool on a wire rack. Serve at room temperature or chilled. These freeze very well.

Makes 16 brownies.
Adapted from here

Recipe for the Chocolate Chip Cookie Bar
Printer Friendly Version
2 1/8 cups all purpose flour
1/2 teaspoon salt
1/2 teaspoon baking soda
12 tablespoons butter (1 1/2 sticks), melted and cooled slightly
1 cup packed light brown sugar
1/2 cup granulated sugar
2 medium eggs
1 tablespoon vanilla extract
2 cups chocolate chips

Preheat the oven to 350 F and line a 13 x 9 baking pan with foil. Grease the foil with butter or spray with nonstick spray.
Sift the flour, salt, and baking soda together into a medium bowl.

Beat the butter and sugars together in the bowl of a stand mixer, then mix in the eggs and vanilla. Add the dry ingredients and mix on low just until all the traces of flour disappear. Fold in the chocolate chips, then spread the batter evenly in the prepared pan.

Bake for about 24 minutes, or until golden and set. Cool in the pan for about 15 minutes, then carefully lift the foil out and let the bars cool completely before cutting them into squares (they'll firm up as they cool).
Adapted from here