My oven has come alive again! It just started decided to work all of a sudden.
So now I'm testing out more recipes that seem healthier.
This recipe doesn't have butter or eggs, but it does have beans in it.
I love brownies. I don't like beans.
I tried this recipe anyways because I remembered that...
Beans, beans, the magical fruit
The more you eat, the more you toot
The better you toot, the better you feel
So, let's eat beans for every meal!
...every meal, including dessert.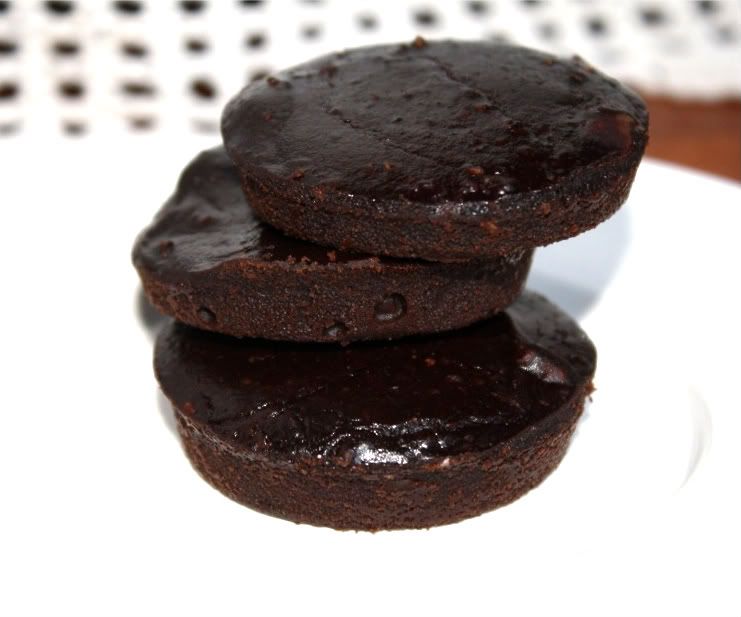 Black Bean Brownies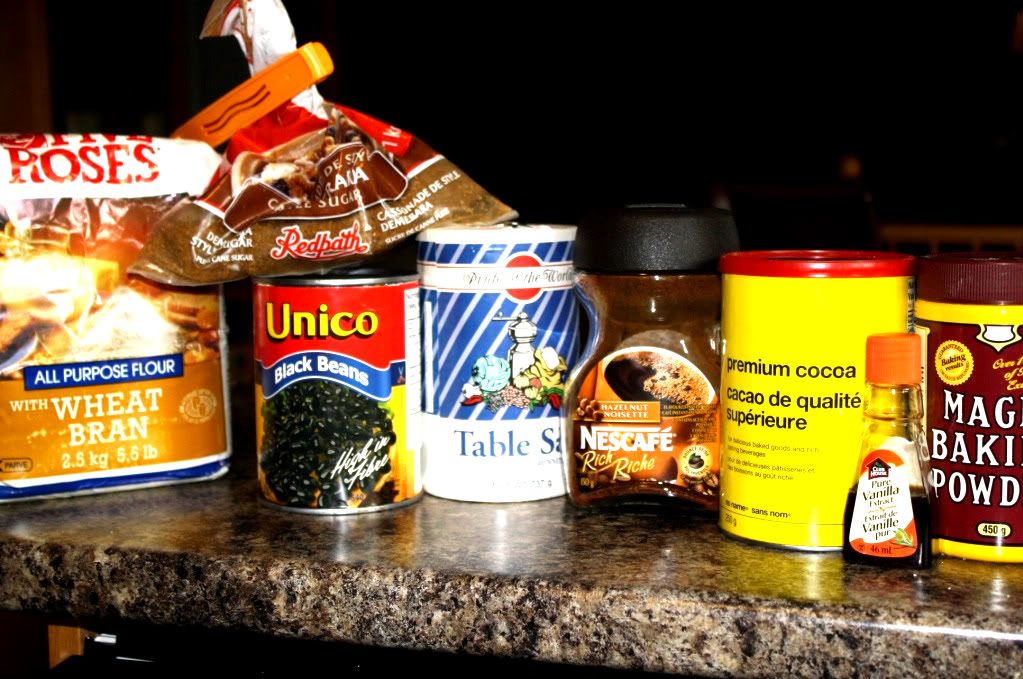 The ingredient list.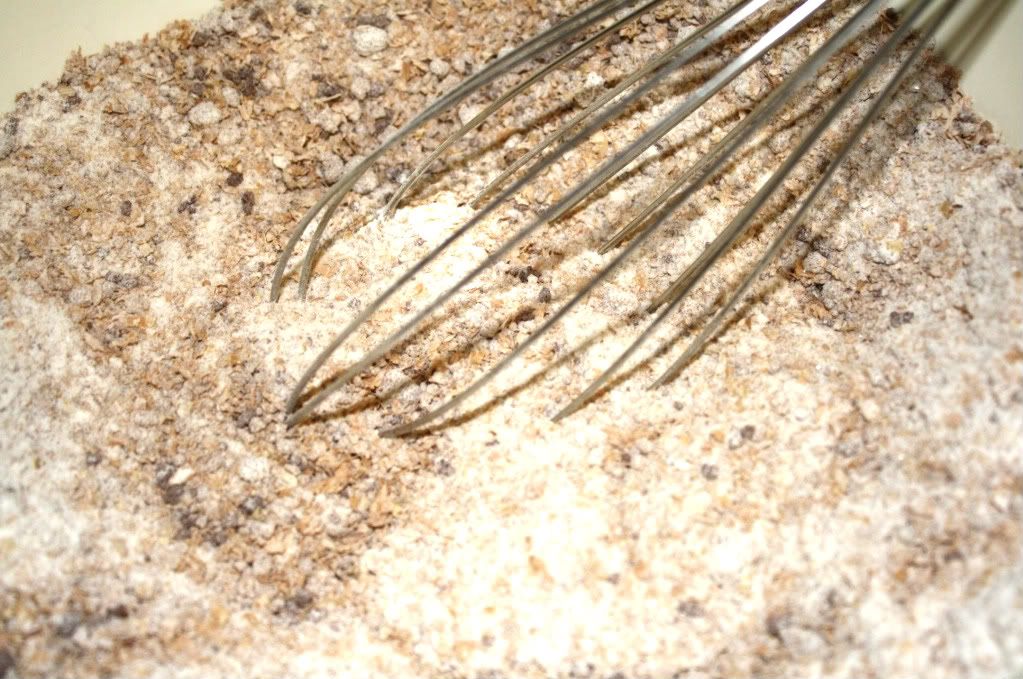 The dry stuff gets mixed in with the simple pureed bean mixture (bean + water).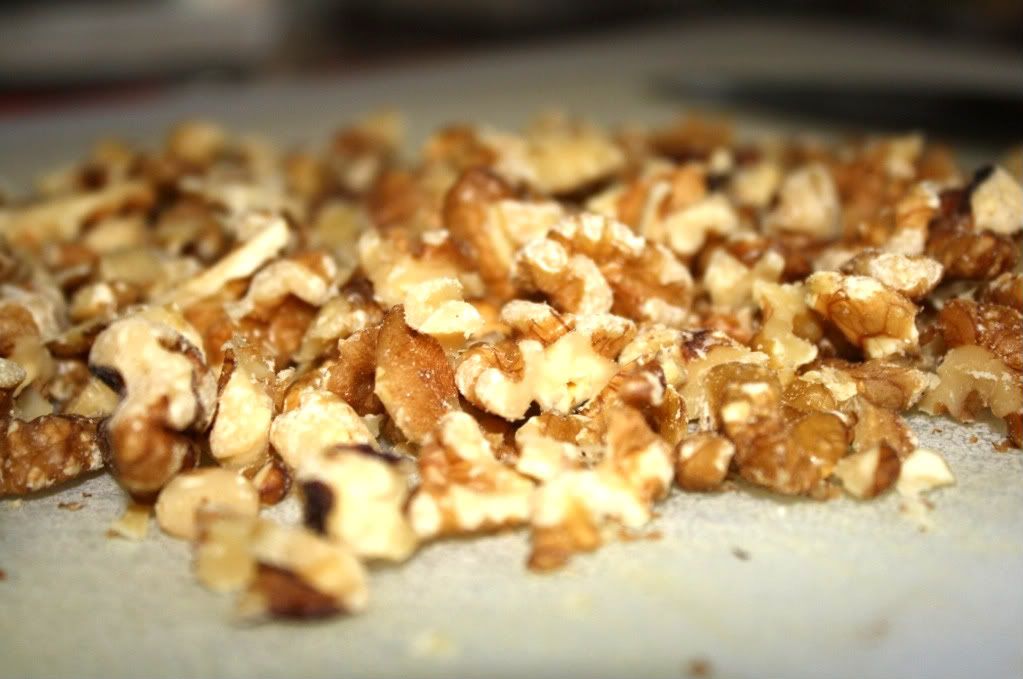 I added some walnuts too.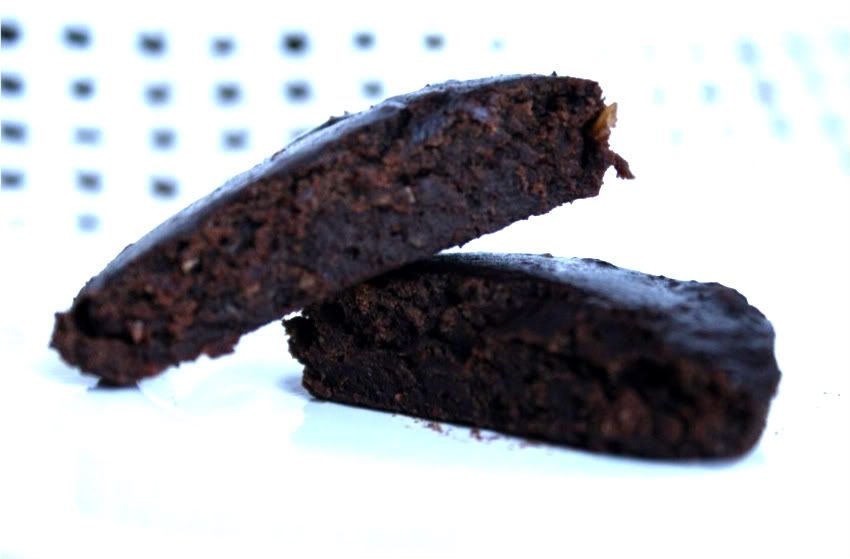 These brownies looked darker than regular brownies with butter
and had a texture similar to fudge-like brownies.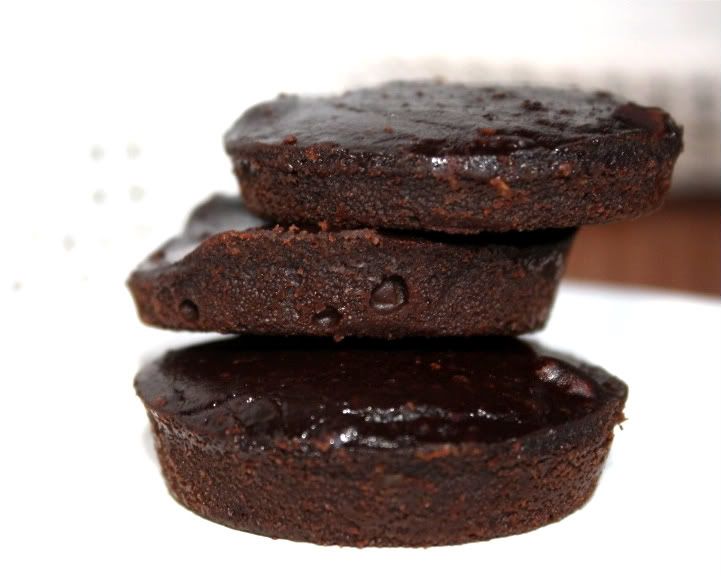 No, I didn't cut them into circles, I actually used a muffin to make two-bite brownies.
Overall, I was not a huge fan... I think I just put way to much coffee powder in the recipe and they just tasted weird.
I found the recipe from
No Meat Athlete
and Christine could not express how
"freakin awesome these brownies are! [...] These are better than ANY brownie [she has] had, including the ones laden with tons of butter and eggs. It's time to put your bean prejudices aside and give this recipe a try!"
Um, ok.
So what do you think of this recipe?
Recipe for Black Bean Brownies
Printer Friendly Version
1 1/2 cups whole wheat flour
1 tsp salt
1 tsp baking powder
2 1/4 cups raw sugar
1 1/4 cup cocoa
4 tsp instant coffee powder
1 1/2 cups chopped hazelnuts

1 15 oz can black beans, rinsed and filled with new water
1 tsp vanilla
1 cup of water (eyeball it by filling up half the empty can)
Preheat the oven to 350 degrees.
Mix together the flour with the salt and baking powder. For a nice layered presentation in a jar start with half the sugar, then add half the flour mixture, all the cocoa, the coffee powder, the remaining flour, the remaining sugar, and the nuts on top. When ready to bake, dump out the jar into a mixing bowl and stir to combine all the dry ingredients.
Drain a can of black beans and rinse thoroughly until the water runs clear. Return the black beans back to the can and fill with water. Puree the beans and water. Add the puree to the dry mix along with the vanilla and extra cup of water. Stir to combine.
Pour the batter into a greased 9×13 pan. Bake for 25-30 minutes, rotating the pan around halfway through. When the brownies are finished they should be firm in the center and the edges will be slightly puffy and starting to pull away from the sides. It's important not to overbake in the oven because they will keep baking once you take them out.
Let brownies cool completely then use a 2×2 in cookie cutter to cut into 24 squares.