I went to a Gourmet Burger restaurant and I ate a burger. The place was called
Relish Gourmet Burger.
First you had to pick a Gourmet Burger Patty from the selection of:
Pure ground sirloin, Grilled chicken breast,
Veggie burger, Portobello mushroom cap,
Lamb, Salmon or Bison
Then you had to choose your type of Gourmet Burger. There were lots of different burgers... like 40 or so. They also had interesting descriptions.
Basic Instinct - "Cheddar cheese...extremely boring but who's judging"
Kosher Special - "Cheddar cheese-bacon...still kinda boring but again we're not judging"
Stoned Kosher - "Cheddar cheese-bacon-sautéed mushrooms...see that better"
Tucker and Tazz Burger - "Cheddar cheese-bacon-sautéed mushrooms and onions...good job!!!"
F.Y.I. Tucker and Tazz are local radio hosts.
And then they had weirder ones.
Nutter Butter Peanut Butter Burger - "Peanut butter-jack cheese-bacon"
Tree Hugger - "Pesto-grilled eggplant-grilled red peppers-grilled Bermuda onion-goat cheese"
Straight to LHSC - "Back bacon-double smoked bacon-Swiss cheese-cheddar cheese"
F.Y.I. LHSC is a local hospital.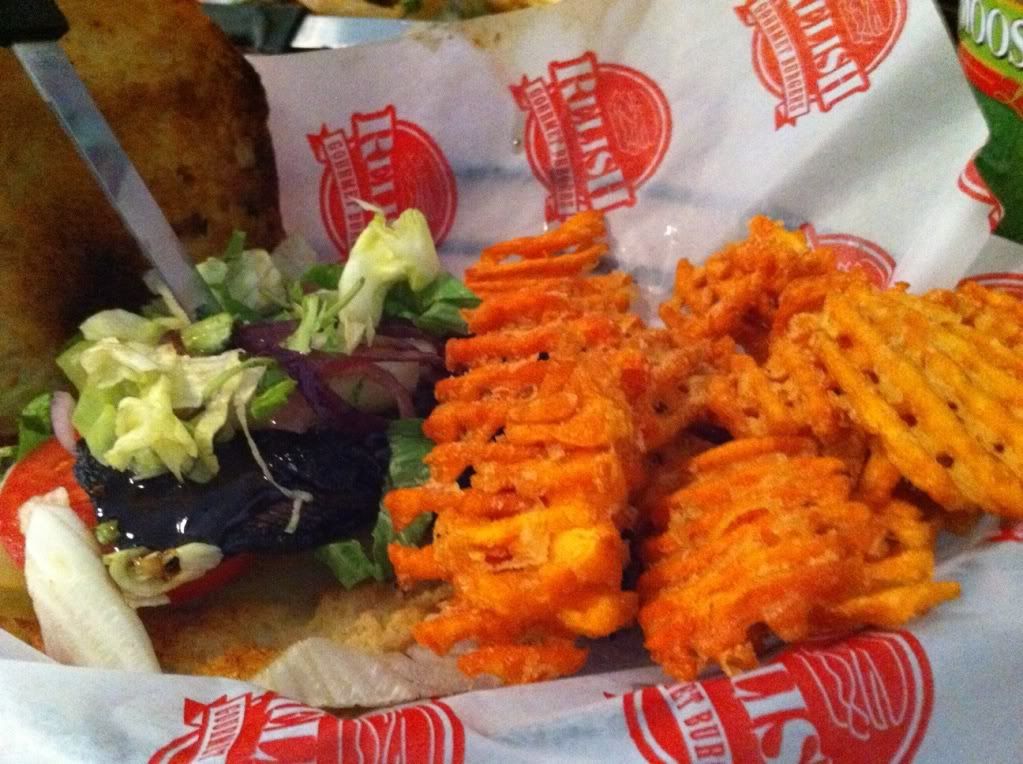 I had the Don Ho - "Pineapple ring-teriyaki sauce-red onion"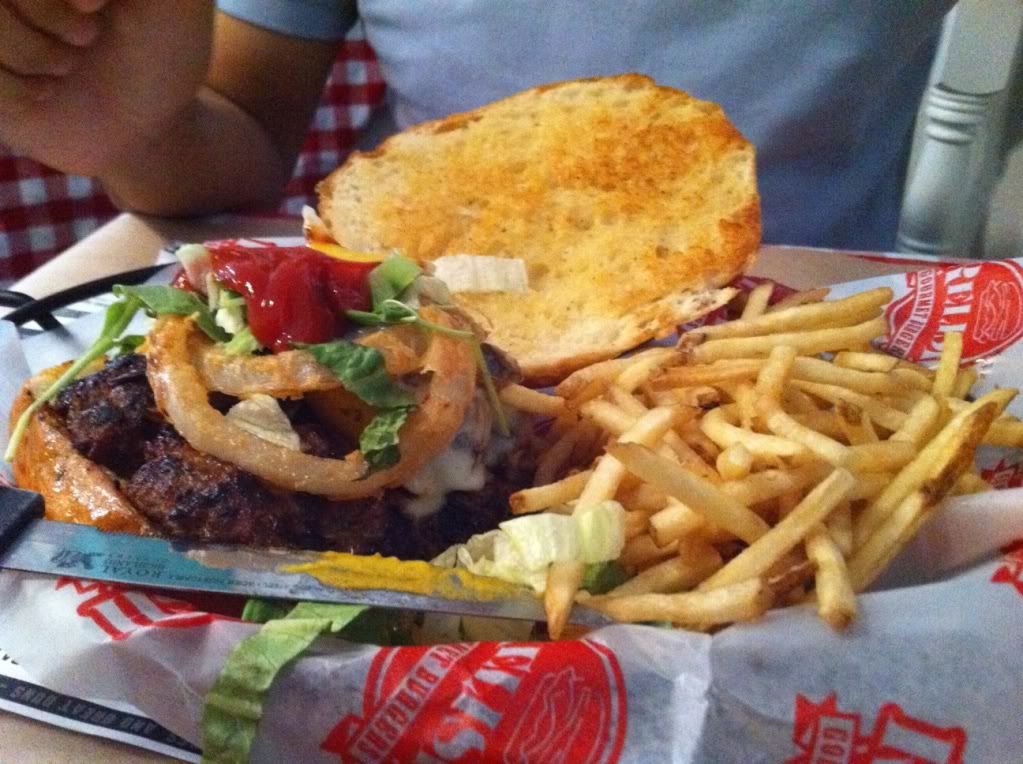 My partner in crime had the
Black Jack
- "Bourbon sauce-mushrooms-peppers-barking squirrel onion ring-Swiss cheese"
There was also
The Fat B*stard
- "2 patties -Portobello mushroom cap - cheddar cheese - Swiss cheese - bacon -barking squirrel onion rings- whiskey bbq sauce-lettuce-tomato." If you could eat the entire Fat Bastard burger..... dessert was on them.
Oh and for the Gourmet Sides, you could choose from:
Homemade frites, Mixed Green Salad,
Coleslaw, Sweet Potato Lattice Fries,
or even Kraft Dinner... yeah KD from the box