Today, my dad roasted a whole pig in the backyard.
I've only heard about pig roasting parties that have happened on farms.
I was concerned with city violations and bylaws.
My dad didn't break any. Yay...
To go along with this whole pig theme, I made Maple Bacon Cupcakes and Dark Chocolate Bacon Cupcakes.
Topped them with Candied Bacon and Cream Cheese Frosting.
Bacon three ways.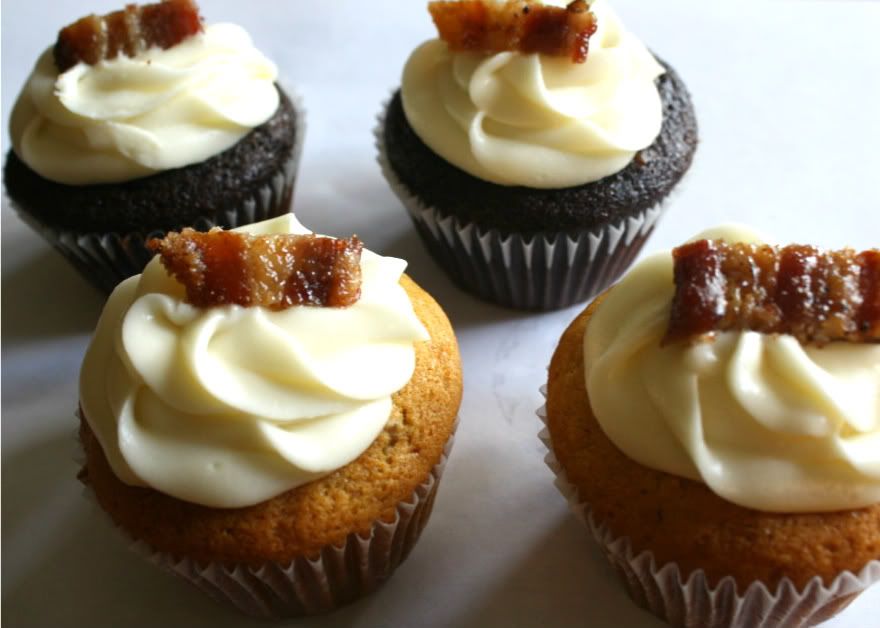 Maple Bacon Cupcakes and Dark Chocolate Bacon Cupcakes.
Very
Epic Meal Time
.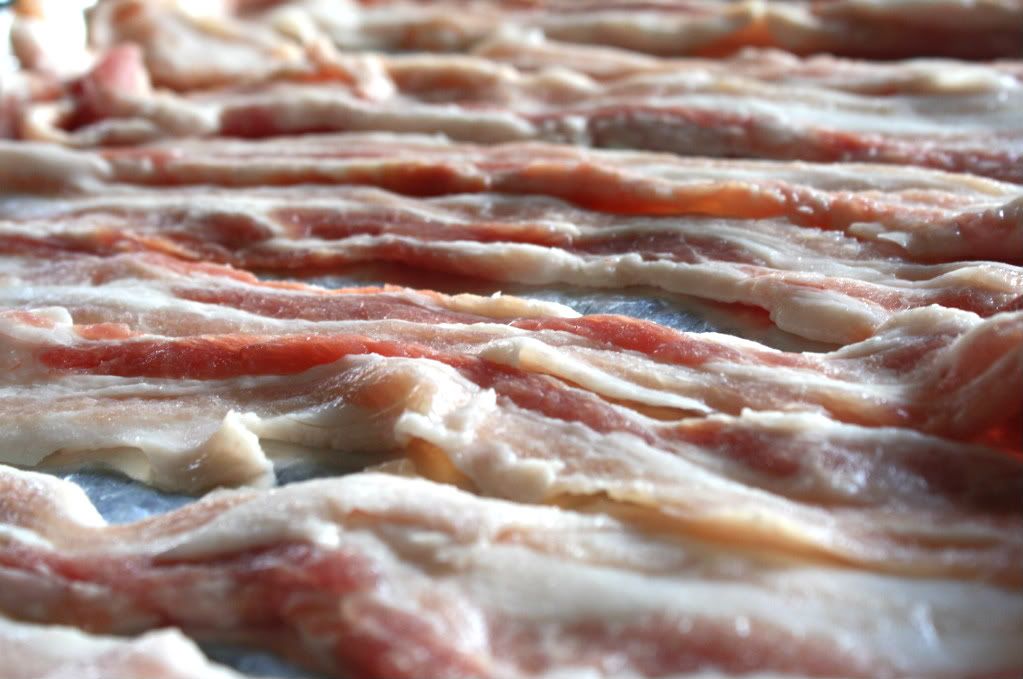 Bacon strips, bacon strips, bacon strips...
This bacon was from the butcher.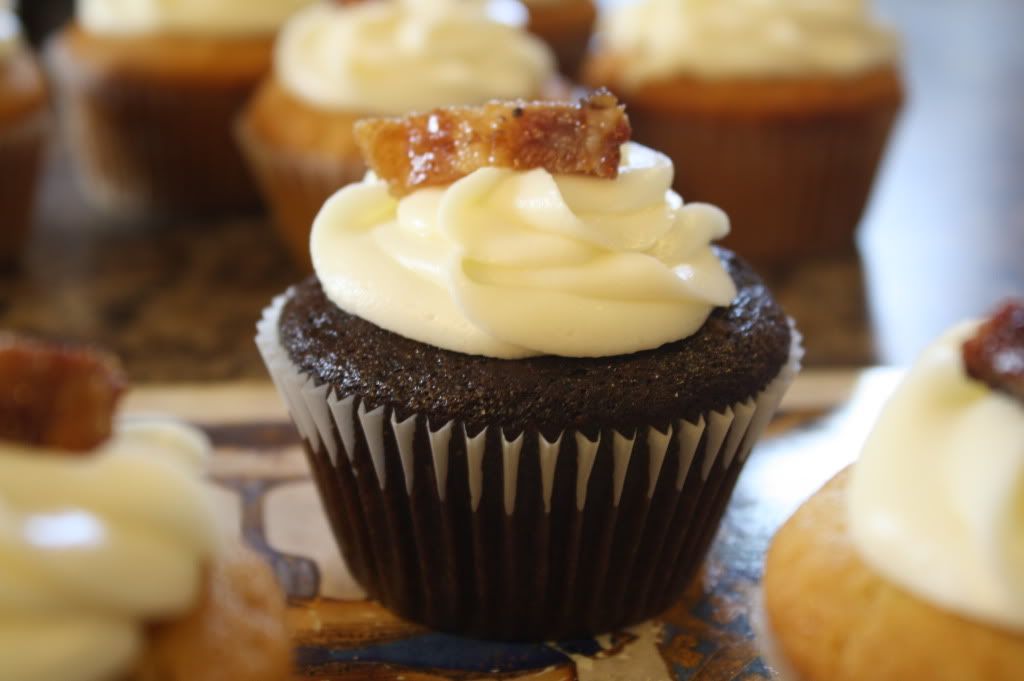 Dark Chocolate Bacon Cupcake
Don't shoot me, but I'm not a huge bacon fan.

I thought this cupcake was strange.
Tasted like a chocolate cupcake with weird bits.
I think bacon lovers would appreciate it more than I did.
I made 2 dozen of these ones.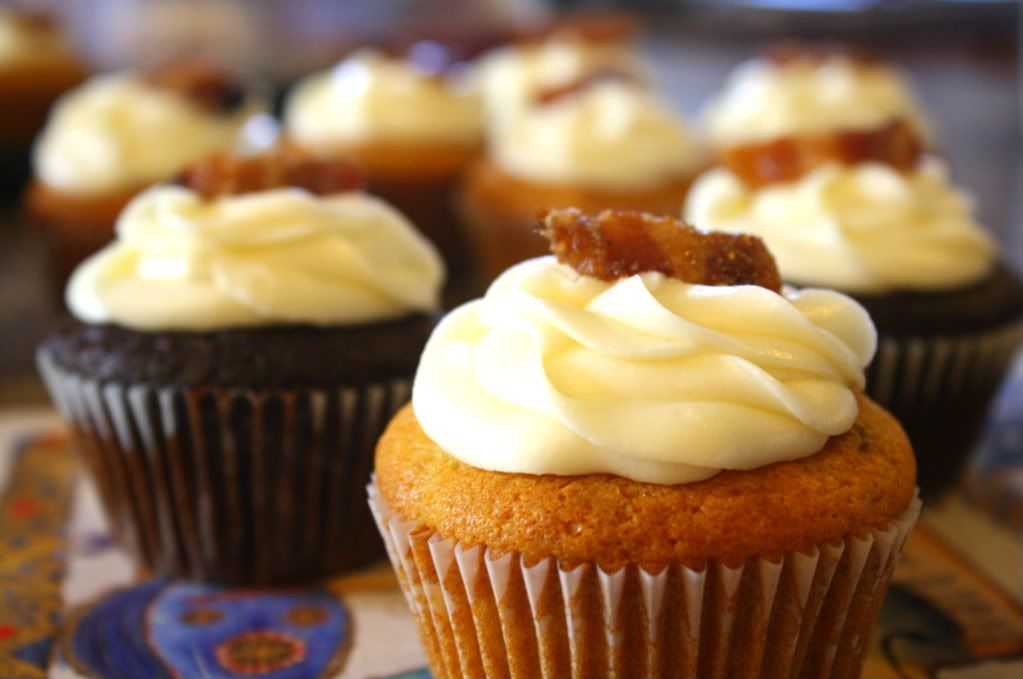 Maple Bacon Cupcakes
I screwed up the conversions and the amounts in the recipe. Oops.
I ended up with 3 dozen of these cupcakes. So in total, I made 60 cupcakes today.
The first 2 dozen of the maple cupcakes were not as moist and the last dozen was perfect.
I baked them for the same amount of time... I guess the oven was acting up...
The maple cupcake was not a super sweet cupcake. More of a cornbread muffin thing.
Both cupcakes went well with the frosting.
The chocolate recipe seemed like less of a hassle.
Normal flour. No mixer needed. Win.
The maple recipe needed self-rising flour, which I tried to make. I think that is where I went wrong. I ended up with a ridiculous amount of baking powder in the recipe.
I also needed to use the mixer to beat the butter. I hate washing dishes so the Maple cupcake was the underdog from the start.
Recipe for Dark Chocolate Bacon Cupcake
makes 24/ 375
F oven
12 slices bacon
2 cups all-purpose flour
3/4 cup unsweetened cocoa powder
2 cups white sugar
2 teaspoons baking soda
1 teaspoon baking powder
1/2 teaspoon sea salt
2 eggs
1 cup cold, strong, brewed coffee
1 cup buttermilk
1/2 cup vegetable oil
1 tablespoon unsweetened cocoa powder, for dusting

Preheat oven to 375 degrees F (190 degrees C). Place bacon in a large, deep skillet. Cook over medium-high heat until evenly brown. Drain, crumble and set aside.
In a large bowl, stir together the flour, 3/4 cup cocoa powder, sugar, baking soda, baking powder and salt.
Make a well in the center and pour in the eggs, coffee, buttermilk and oil. Stir just until blended. Mix in 3/4 of the bacon, reserving the rest for garnish. Spoon the batter into the prepared cups, dividing evenly.
Bake in the preheated oven until the tops spring back when lightly pressed, 20 to 25 minutes. Cool in the pan set over a wire rack. When cool, arrange the cupcakes on a serving platter. Frost with your favorite chocolate frosting and sprinkle reserved bacon crumbles on top. Dust with additional cocoa powder.
Recipe for Maple Bacon Cupcakes
Makes 6 / 350F oven

4 1/2 tablespoons of butter, room temperature

1/2 tablespoon of bacon drippings (left in the fridge to become solid)
1 egg

5 tablespoons of brown sugar

4 tablespoons maple syrup

1 1/4 cup of self rising flour

1 teaspoon of baking soda

1/2 teaspoon of baking powder

tiny tiny pinch of kosher salt

1/4 cup of milk

1/4 cup of minced bacon, cooked and drained
Cook some bacon in a fry pan (about 6 thick strips). Reserve the drippings and place in the fridge to solidify. Mince 1/4 a cup of the bacon. The chef should eat whatever is left to assure that the bacon is tasty.
Beat the crud out of the butter and solidified bacon fat 'till light and creamy. Add the brown sugar and maple syrup and beat well until
combined.
Add the egg and beat until incorporated.
Sift the flour, salt, baking soda and powder together.
Add some of the flour and mix, then some of the milk, then continue to alternate the dry and wet ingredients, ending with the dry. Mix until just combined. Fold in the bacon. Taste and add more maple syrup, flour, or milk if needed for desired taste. Keep in mind the maple frosting is very sweet, and to add in very small increments for alterations as maple syrup in large amounts can break a cake batter.

Scoop into cupcake papers and bake at 350 F for 18-22 minutes or until a toothpick comes out clean. Be sure to rotate the pan after the first 15 minutes for even baking.