"If you like Piña Coladas, and getting caught in the rain..." then you might like these cupcakes.
Don't worry, you don't need to be into yoga but having a brain would be good.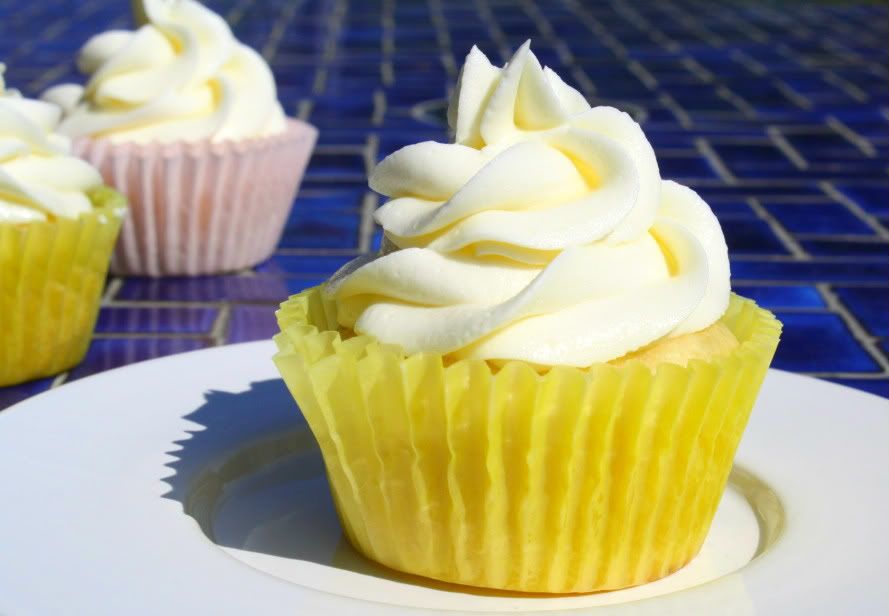 Piña Colada Cupcakes with Almond Buttercream Frosting.
I have trouble sleeping in. I don't know why that is and today was no exception.
Maybe it's because my window blinds are filled with tiny holes/slots and don't actually block out the light in the morning. I'm also aware that it's possible for people to see into my room at night. Definitely creeps me out just thinking about it. And no, I didn't choose these window blinds, but I'm too lazy to change them now.
Or maybe it's because I wake up at the same time almost everyday. Circadian rhythms and whatnot.
Regardless, I was super tired this morning but all I wanted to do was bake something different.
Probably not the best idea to make substitutions for almost everything in the recipe so I'm not going to post it. I'm not even sure I can remember it.
Don't worry, the cupcake turned out fine. Very moist. Always a good thing.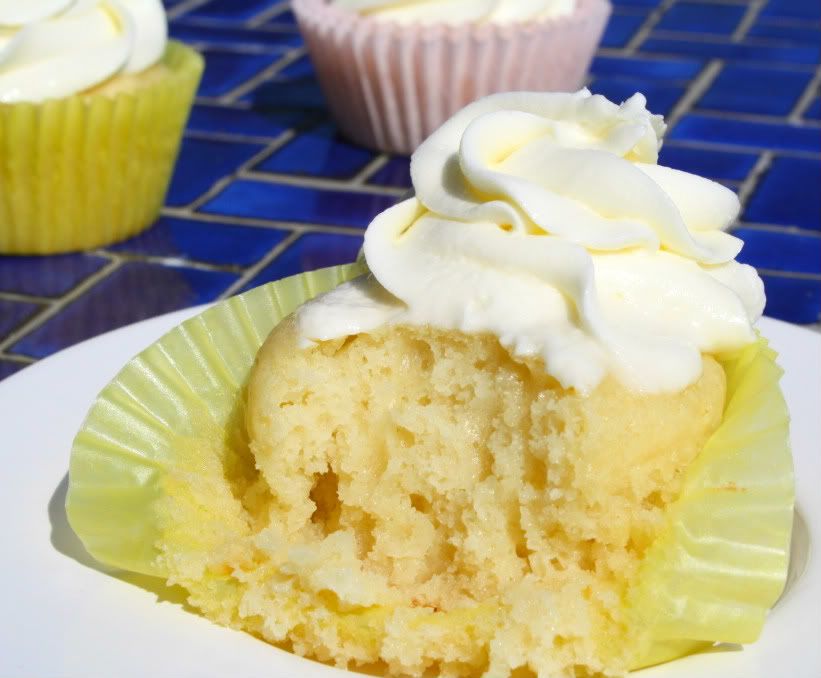 I'm not sure why these cupcakes stuck to the cupcake liners, which of course made it difficult to take off the liner.
Maybe it was because I double layered the cupcakes. I've never done that before and I'm not sure why I did. Probably because I was so tired.
Maybe if I had baked them longer, they would have come off clean.
Whatever. So many maybes.
Update: Now that the cupcakes have cooled, they don't stick to the liners.
I also decided to post the recipe but just keep in mind that most of the measurements are approximate.
Recipe for Piña Colada Cupcakes with Almond Buttercream Frosting:
For the Cupcake:
1 cups all-purpose flour
1/4 tsp each baking powder and baking soda
1/6 tsp salt
1/3 cup milk

1/4 cup unsalted butter, softened
1/3 cup pina colada drink mix (you can substitute honey, but then you won't have pina colada cupcakes... you would have honey cupcakes)
1 large egg
1. Heat oven to 350°F. Line 9 muffin cups with paper liners.

2. Mix flour, baking powder,baking soda and salt in medium bowl to blend.

3. Beat butter and pina colada drink mix in large bowl with an electric mixer 3 or 4 minutes until well mixed. Beat in egg until blended.

4. With mixer on low speed, beat in half the flour mixture, then the milk. Beat in remaining flour mixture until just combined.

5. Spoon about 1/4 cup batter into each muffin cup. Bake 14 to 17 minutes until wooden pick inserted in center comes out clean. Cool 10 minutes; remove cupcakes from pan to wire rack to cool completely.
For Almond Buttercream Frosting:
1/2 cup of unsalted butter, softened
pinch of salt
2 cups of icing sugar
splash of pina colada drink mix (I want to say 1/4 cup but that might be too much)
another splash of almond extract (I think it might have been 1 Tbsp, maybe not)
1. Beat the butter and slowly add in the icing sugar.
2. Add in the salt.
3. Add in the liquid to desired taste and texture.
4. Just let the mixer beat and beat until light and fluffy.