I've never made cinnamon buns before... until now.
It's not too difficult.
It just takes time... and love.
Mostly just time... and maybe some cinnamon.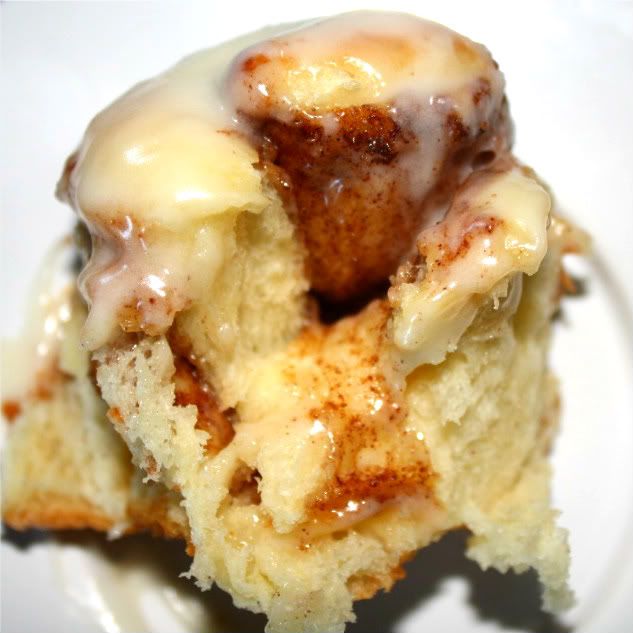 Cinnamon rolls
And yes, I took a picture of the ugly one that doesn't look like a roll.
Just use your imagination and pretend it looks pretty.
At least it was very tasty.
Remember, "looks aren't everything".
I read that the longer you let the bread buns rise.. the higher and fluffier they will be...

So I left them alone and they just did their thing...
Got very high. Got very twisty.
Added a little bit of icing to top it off.
Recipe for Cinnamon Rolls
Ingredients for Dough:
- 1 teaspoon white sugar
- 1 (.25 ounce) package active dry yeast
- 1/2 cup warm water (110 degrees F/45 degrees C)
- 1/2 cup milk
- 1/4 cup white sugar
- 1/4 cup butter
- 1 teaspoon salt
- 2 eggs, beaten
- 4 cups all-purpose flour
Ingredients for Filling:
- 3/4 cup brown sugar (I used 1/2 cup)
- 2 tablespoon ground cinnamon (I used 4 teaspoons)
- 1/4 cup melted butter (I used 1/8 cup room temp butter... maybe less)

Topping:
- Use whatever icing you want... cream cheese frosting? my fav...
- In a small bowl, dissolve 1 teaspoon sugar and yeast in warm water. Let stand until creamy, about 10 minutes. Warm the milk in a small saucepan until it bubbles, then remove from heat. Mix in 1/4 cup sugar, 1/4 cup butter and salt; stir until melted. Let cool until lukewarm.
- In a large bowl, combine the yeast mixture, milk mixture, eggs and 1 1/2 cup flour; stir well to combine. Stir in the remaining flour, 1/2 cup at a time, beating well after each addition. When the dough has pulled together, turn it out onto a lightly floured surface and knead until smooth and elastic, about 8 minutes.
- Lightly oil a large bowl, place the dough in the bowl and turn to coat with oil. Cover with a damp cloth and let rise in a warm place until doubled in volume, about 1 hour.
- Combine remaining 3/4 cup brown sugar and cinnamon; set aside.
- Turn dough out onto a lightly floured surface, roll into an 18x14 inch rectangle. Spread butter over the dough, leaving 1/2 inch border uncovered; sprinkle with brown sugar cinnamon mixture.
- Starting at long side, tightly roll up, pinching seam to seal. Brush with remaining 2 tablespoons butter (I skipped this step).
- With serrated knife, cut into 15 pieces; place cut side down, in prepared pan. OR... Do this trick for cutting the rolls without mashing the dough: take a piece of thread, slide it under the roll, cross the thread and pull quickly.
- Cover and let rise for 1 hour or until doubled in volume. Meanwhile, preheat oven to 375 degrees F (190 degrees C).